COVID Vaccination Transportation
Vaccination Sites on Free Routes
Riding an existing fixed route is the easiest, fastest and most affordable way to get to your vaccine using public transit! All BCRTA fixed route services are FREE to ride and many of the vaccine sites are located along existing routes. Please see the map below and click the link to get more detailed information on the routes and vaccine locations.
Premier Health Atrium Medical Center is providing vaccines. Click HERE to register for the vaccine clinics. Access on MTS to Atrium Medical Center can be done via the Red Line.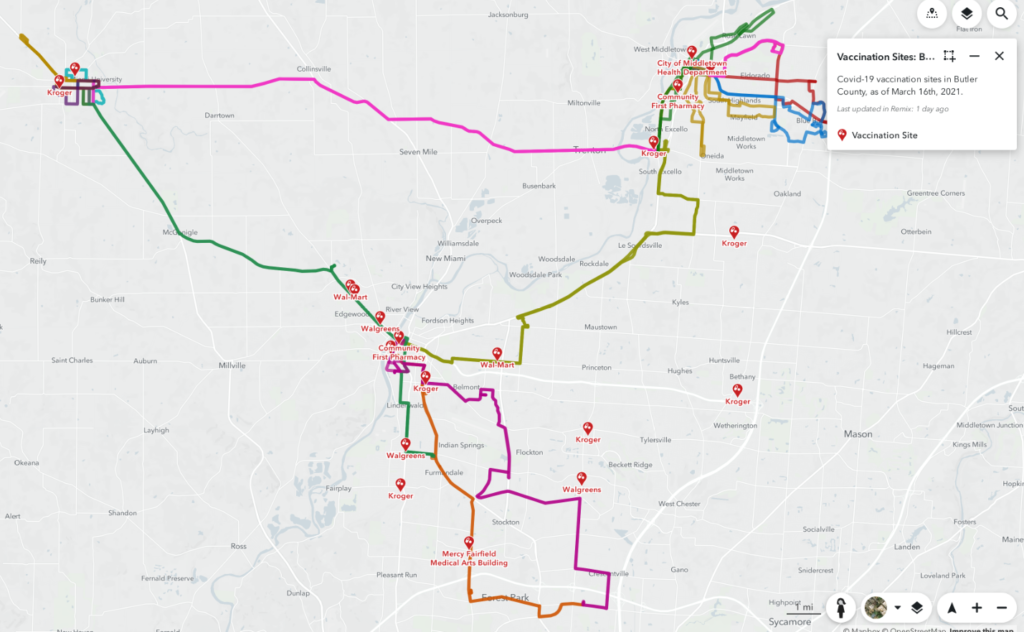 BGo Rides to Community Immunity
Ohio Department of Transportation has awarded BCRTA funding to provide transportation for Butler County residents to their vaccine appointments. BCRTA is utilizing this funding to cover the $5.00 BGo trip fare both directions, making the vaccine trips free for all. Call customer service at (513) 785-5227 to schedule a ride.
Group Vaccination Trips
Organizing for Your Group
BCRTA has received a limited amount of funding through the State of Ohio for "Rides to Community Immunity." If your group or organization is interested in group vaccine transportation, please contact BCRTA to learn more. Interested organizers may contact Shawn Cowan, Mobility Manager, at (513) 785-5398 or cowans@butlercountyrta.com for more details.
Groups Already Organized
These groups have already organized their own vaccine transportation with BCRTA. Each group coordinates their own schedules, appointments and riders. Please reach out to the local coordinator to learn more and reserve your ride.
| | | |
| --- | --- | --- |
| Organization | Eligibility | Contact Method |
| City of Oxford | City Residents | 513-524-5238 |
Mask Up!
The Transportation Security Administration (TSA) does mandate mask wearing on all public vehicles across the U.S. Please help BCRTA stop the spread of COVID-19 and wear a mask at all times while riding.