Butler County Regional Transit Authority Receives Ohio Auditor of State Award.
October 6, 2023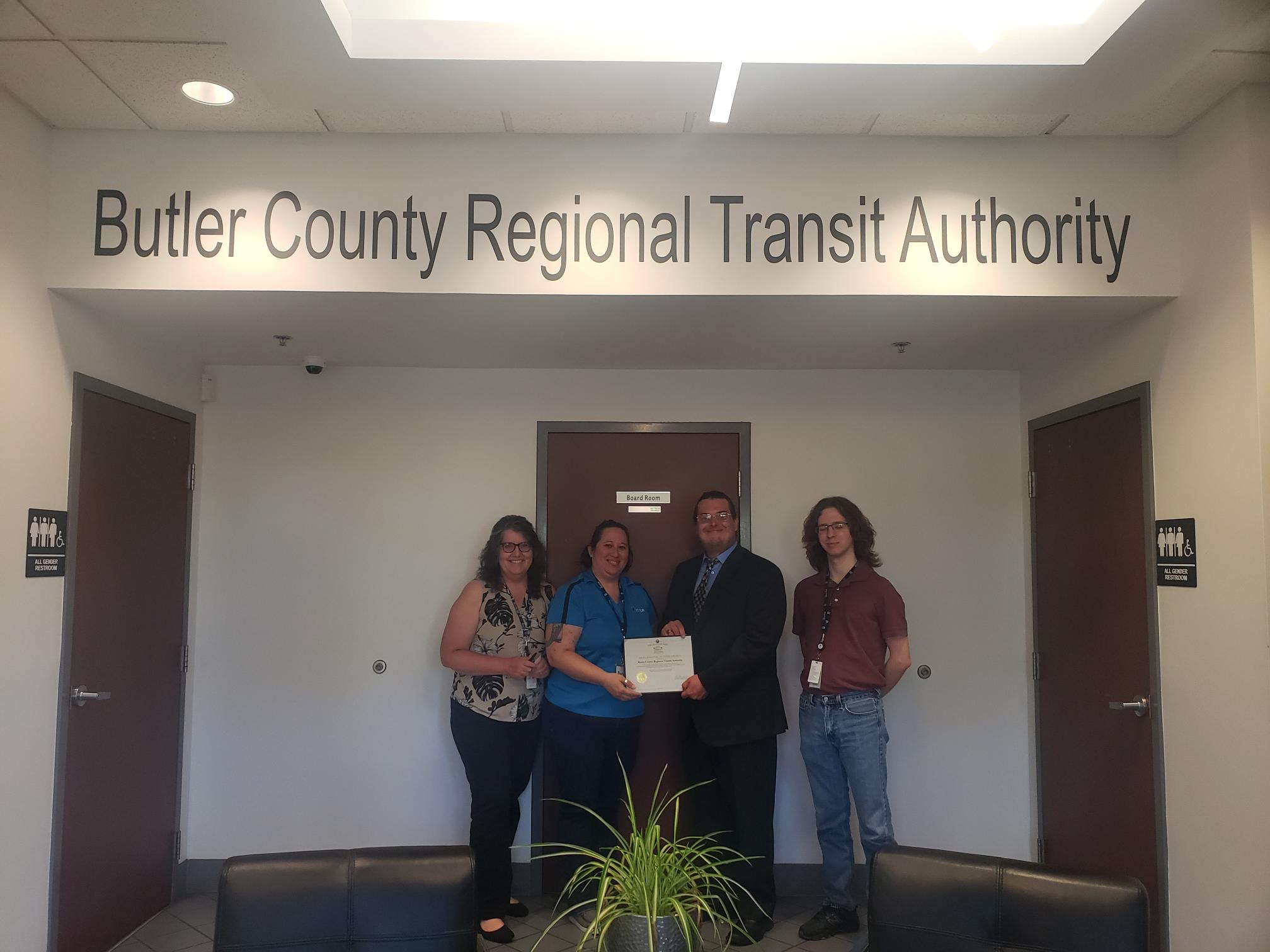 Hamilton, OH, October 5, 2023 – The Butler County Regional Transit Authority (BCRTA) is thrilled to announce its receipt of the prestigious Ohio Auditor of State Award for the fiscal year 2022, a recognition that attests to the agency's commitment to impeccable accounting practices. The award was presented by Ryan Holiday, Southwest Regional Liaison for Ohio Auditor of State Keith Faber.
The Ohio Auditor of State Award is a coveted distinction conferred upon organizations that exemplify the highest financial transparency and accountability standards. BCRTA has emerged as one of the top performers in the state, with only 6% of the 600 audited entities earning this accolade.
The Ohio Auditor of State Award is presented to entities that meet rigorous criteria for a "clean" audit report, including timely financial reporting, audit excellence, and management letter quality; no comments relating to ethics, questioned costs, bank reconciliation issues, public meetings, or public record issues.
Dee Weidner, BCRTA Finance Director, expressed her gratitude for this recognition, stating, "It was a surprise this year that the award was hand-delivered, and my team could accept the award from Mr. Holiday. The award resulted from their hard work, and I was confident the audit would result as it did."
This achievement reflects the BCRTA's dedication to financial integrity, transparent accounting practices, and responsible stewardship of public funds. BCRTA is proud of its finance team, whose diligence and expertise have set an exemplary standard in the field of accounting.
BCRTA extends its heartfelt gratitude to the Ohio Auditor of State's office for this prestigious recognition and remains steadfast in pursuing financial excellence for the communities it serves.